Doves Farm Gluten & Wheat Free Plain White Flour Blend 1kg
over 1 month *

Product Description
A flour blend milled from naturally gluten and wheat free ingredients this is an alternative to everyday wheat flour which will require a little extra liquid in most recipes.

We are passionate about home baking and also believe that what we eat today will affect our health tomorrow. As well as being a satisfying and rewarding activity, when you bake at home you can select the best quality, local and seasonal ingredients, and be certain of what has gone into your food. You and your family will enjoy great tasting home made food. We often double the recipe and when baked, freeze half to eat at a later date.

In our mill we make a large range of flours from many different natural grains, beans & seeds without adding refined gluten or enzymes. We blend specific grain varieties to ensure that the resulting flour has the optimum characteristic for the type of baking it will be used for. This means soft wheat varieties for cakes, pastry and sauces or stronger hard wheat for bread making flours. The more unusual flours have distinctive characters and applications of their own. If you are on a special diet look out for those flours that suit your situation.

"This flour was designed to be used in place of wheat flour so the whole family could enjoy eating the same thing at meal times. It is very absorbent so add a little extra liquid when following your own recipes. For bread making it is important to follow our special recipe."
Clare & Michael, Doves Farm
Product Information
Categories
Brand
Doves Farm
Storage
To keep your flour at its best, roll down the top after use and store in a cool dry place.
Prepare & Use
Gluten Free Pastry
This pastry will appear a little wet at first but will absorb the liquid when it is resting.
Oven according to your recipe
200g/8oz Plain White Flour Blend
100g/4oz Butter
4tbsp Cold water
1. Using a fork mash the butter into the flour until it has the appearance of lumpy breadcrumbs.
2. Stir in the water and bring the pastry together into a ball of dough.
3. Wrap in cling film and rest pastry for at least 30 minutes.
4. Roll the pastry out on a floured surface, between two pieces of cling film or simply press into the baking dish using your fingers.
5. Add your filling and cut away any pastry that hangs over the edge of the dish.
6. Bake according to your recipe.
Gluten Free Victoria Sponge
Use this flour with added baking powder to make great sponge cakes. The cake mixture needs to be a little sloppy but will quickly absorb the liquid.
Oven 190°C/Fan 170°C/375°F/Gas 5
150g/6oz Softened butter
150g/6oz Caster sugar
2 drops Vanilla essence
2 Eggs
1 tsp Baking powder
150g/6oz Plain White Flour Blend
3tbsp Milk (or soya/rice milk)
3 tbsp Jam
1tsp Icing sugar
1. Cream the butter, sugar and vanilla together until light and fluffy.
2. Beat in the eggs one at a time followed by the baking powder, flour and milk.
3. Divide between 2 oiled and lined 20cm/8" round baking tins.
4. Bake in a pre heated oven for 15/20 minutes.
5. Turn the cakes out on to a wire rack to cool.
6. Spread jam on top of one sponge and place the other on top.
7. Dust the top with sieved icing sugar.
Chocolate Sponge Cake
Combine the Victoria Sponge ingredients with the following additional ingredients to make chocolate sponge layers.
1tbsp Cocoa
3tbsp Chocolate spread
1. Follow the Victoria Sponge recipe adding the cocoa after the flour.
2. Bake as per the recipe and when cold sandwich layers together with chocolate spread instead of jam.
Gluten Free White Sauce
This basic white sauce can easily be transformed with the addition of grated cheese or sliced mushrooms and is ideal for pouring over cooked vegetables.
50g/2oz Butter
50g/2oz Plain White Flour Blend
425ml/15floz Milk (or soya/rice milk)
to taste Salt & pepper
1. Gently heat the butter, flour and milk in a saucepan stirring all the time.
2. Continue stirring as the sauce thickens and bring to the boil to cook.
3. Add seasoning to taste.
Apple Crumble
Oven 170°C/Fan 150°C/325°F/Gas 3
250g/10oz Plain White Flour Blend
150g/6oz Caster sugar
125g/5oz Butter
450g/1lb Cooking apples
75g/3oz Brown sugar
4 Cloves
1. Combine the flour, caster sugar and butter with a fork until the mix resembles breadcrumbs.
2. Peel & slice the apples into a deep ovenproof dish. Mix in the brown sugar & cloves.
3. Spread the flour mixture over the fruit & bake in a preheated oven for 50/60 minutes.
Country of Origin
UK
Manufacturer
Doves Farm Foods,
Salisbury Road,
Hungerford,
Berkshire,
RG17 0RF.
www.dovesfarm.co.uk
Package Type
Paper Bag
Nutrition
Allergen Information
Free From Nut, Free From Gluten, Free From Wheat, Free From Lactose, Free From Soya, Free From Milk
Ingredients
Flour Blend (Rice, Potato, Tapioca, Maize, Buckwheat)
Dietary Information
Suitable for Coeliacs
Free From Gluten
Nutritional Data
| Typical Values | per 100g |
| --- | --- |
| Energy | 1482kj |
| Energy | 349kcal |
| Protein | 17.1g |
| Carbohydrate | 68.3g |
| of which sugars | 0.1g |
| Fat | 0.8g |
| of which saturates | 0.2g |
| Fibre | 0.6g |
| Sodium | 0.05g |
Reviews
Recipes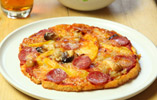 A wheat free take on a firm favourite these individual pizzas combine mashed potato and gluten free flour to make a perfect textured base on which to build your own creation.
40 mins
Tesco Price Match

** Matched to Tesco's standard retail price on 30-Sep-2014 at 02:43. See our Terms and Conditions for full details.
Disclaimer

These summary details have been prepared for information purposes only, and are designed to enhance your shopping experience on the Ocado website. While we have taken care in preparing this summary and believe it is accurate, it is not a substitute for your reading the product packaging and label prior to use. You should note that products and their ingredients are subject to change. If you do require precise ingredient information you should consult the manufacturer, whose contact details will appear on the packaging or label.
Ocado is therefore unable to accept liability for any incorrect information. Where this description contains a link to another party's website for further information on the product, please note that Ocado has no control over and no liability for the contents of that website.
You should also note that the picture images show only our serving suggestions of how to prepare your food - all table accessories and additional items and/or ingredients pictured with the product you are purchasing are not included.
This data is supplied for personal use only. It may not be reproduced in any way whatsoever without Ocado Limited's prior consent, nor without due acknowledgement.